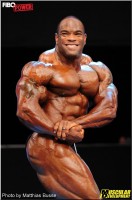 Johnnie Jackson turned back the clock on Saturday night in Essen, Germany, winning the IFBB FIBO Power in what was possibly the best outing of his 11-year pro career. In the process Jackson – who turned 42 this past January – notched his third professional win, and his first since the 2007 Atlantic City Pro.
Michael Kefalianos finished as the runner-up for the second consecutive contest. Last month, Kefalianos gave reigning Arnold Classic champ Branch Warren all he could handle when placing second at the Australian Pro Grand Prix. Kefalianos was slightly off from that showing in Germany.
Sergey Shelestov (3rd), Balto Abbaspour (4th) and Ferras Saied (5th) rounded out the top five and earned points in the Olympia Qualifying Series.
With the win, Jackson has now qualified for the Mr. Olympia in eight of the last nine years.
For full galleries of the FIBO Power, go to MuscularDevelopment.com.